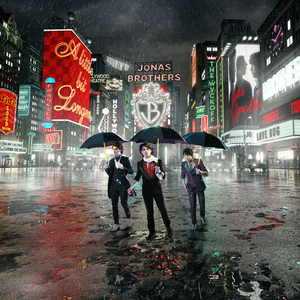 Album: A Little Bit Longer
Artist: Jonas Brothers
Release Date:
Album Tracks:
A Little Bit Longer is the third studio album by the American boy band the Jonas Brothers, and their second album released under Hollywood Records/managed under Sony/ATV Music Publishing. It was released on August 12, 2008. The title of the album, "A Little Bit Longer," comes from their song of the same name, which Nick Jonas wrote about his dealings with having Type One Diabetes. The album artwork was released by Team Jonas, the Jonas Brothers' official fan club, to fan club members via an e-mail newsletter on June 20, 2008. Like their last album, this one also features CDVU+ technology that includes more than 30 pages of bonus features with exclusive video performance, 60 printable photos, complete album lyrics, downloadable graphics, and hidden links. In addition, the packaging of the album is made from 100% recycled materials. According to Nielsen SoundScan, the album debuted at #1 on the Billboard 200 selling 525,402 units in its opening week. The album also charted as #1 on the Billboard Comprehensive Albums, Top Digital Albums, Top Internet Albums, and Tastemakers. The album is also considered as the highest first week sales debut at number one for a Hollywood records artist in the U.S. and Worldwide. User-contributed text is available under the Creative Commons By-SA License; additional terms may apply.